Laughing Stock Vineyards
Story
How liquid are your assets?
Laughing Stock Vineyard Founders David and Cynthia Enns led conservative, methodical, and calculated lives in the Financial Industry. In 2003, they followed their hearts, and bullishly invested everything into the wine industry. An emotional decision that their pinstriped peers thought was ... fiscally foolish, and financially unwise.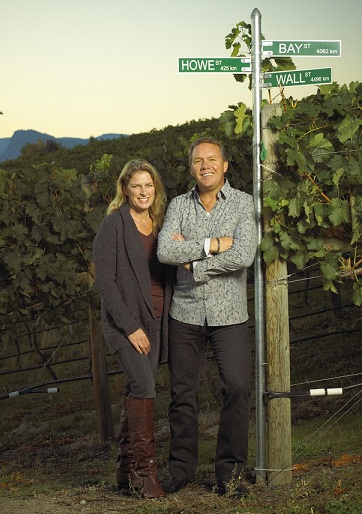 The Laughing Stock name may have unwittingly been conceived at this time. Heaven knows they heard the term over-and-over again from their colleagues on Bay Street and Wall Street. But this was a venture that had to be pursued, regardless of the dire financial forecasts. As David often said, "this is our 'vow of poverty".
For over 15 years, David and Cynthia grew the Laughing Stock Vineyards to the coveted and respected portfolio of exemplary wines that exists today. Highly acclaimed wines that have been twice awarded the Lieutenant Governor's Award for Excellence in B.C. Wine, the 2011 Syrah was named the Best Red Wine in Canada by Decanter World Wine Awards, and in October 2018, Laughing Stock Vineyards took home the top trophy for Syrah in the Six Nation Wine Challenge that awards only the top wines of the New World nations.
Today, while Cynthia and David are no longer involved in winery operations, they have left a formidable legacy, and commitment to excellence and passion for wine that continues to drive Laughing Stock Vineyards forward. It is our goal to carry on their vision to continuously explore and create the best wines that showcase our beautiful region.
Our vineyards
Naramata Bench Vineyard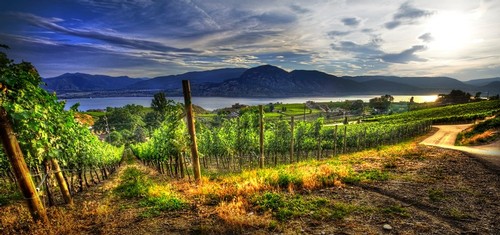 The estate winery vineyard is home to all the Bordeaux grape varieties (Merlot, Cabernet Sauvignon, Cabernet Franc, Malbec & Petit Verdot) that are included in the Portfolio flagship wine.
Perfect Hedge Vineyard - Osoyoos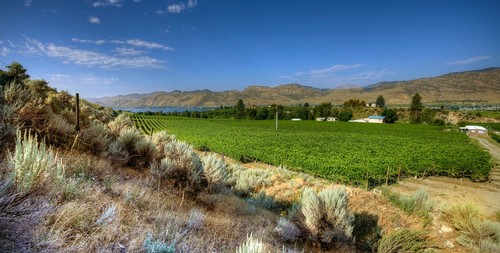 Home to Bordeaux varieties (Merlot, Malbec & Cabernet Sauvignon) as well as Viognier and Syrah (2011 Winner of Lt. Governor's Award of Excellence in BC Wines). Southwest exposure above Osoyoos Lake and in Canada's only desert makes this location ideal for the big reds.
Overview
| | |
| --- | --- |
| Address | 1548 Naramata Rd.,Penticton, BC V2A 8T7 |
| Wine Maker | Stefanie Dylla assistant winemaker The best thing about having Ontario's Brock University offer a quality wine-making program is that we get all their grads wanting to relocate to BC. Stef joined our winery team for the 2016 Harvest and has been putting her BSc Honours in Viticulture and Oenology to practical application ever since. In addition to 2 harvests in Ontario, Stef did a harvest in New Zealand's Marlborough before coming back to BC for good. She loves the whole cycle of winemaking, although not the biggest fan of our vibrating sorting table at harvest (grab the Gravol!). When not working with the barrels, you can find Stef doing Okanagan classics like paddle-boarding or hitting the Penticton farmer's market. |
| Country | Canada |
| Province | British Columbia |
| Region | Okanagan Valley |
Producer Map
1548 Naramata Rd.,Penticton, BC V2A 8T7
Quick View
Laughing Stock Pinot Gris 2019
Canada, British Columbia
90
QV
90 Points (Quercus Vino)
89
WA
89 Points (WineAlign)
Pinot Gris is one of the darling varietals of the Okanagan Valley. It ripens easily and consistently produces an enjoyable, fruit forward yet food friendly wine.
Details
Quick View
Laughing Stock Portfolio 2017
Canada, British Columbia
94
D
94 Points (Decanter (UK))
93
WA
93 Points (WineAlign)
92
WA
92 Points (WineAlign)
92
WA
92 Points (WineAlign)
92
WA
92 Points (WineAlign)
After more than a decade of consistently outstanding wine, Portfolio is now a Canadian Icon. We are glad we can share a bit of this outstanding wine with you here!
Details