back
Laughing Stock Pinot Gris 2019
Canada, British Columbia
90
QV
90 Points (Quercus Vino)
89
WA
89 Points (WineAlign)
Data
| | |
| --- | --- |
| Closure | Screw Cap |
| Volume | 750ml |
| Alcohol | 14.5% |
| Product Code | B008W00219 |
| UPC | 850451001145 |
| Inventory | In Stock (22) |
Owning & Enjoying
Tasting notes
This wine has a lovely fruit salad nose, nectarine, some green apple, and is lifted by a citrus note. The palate is vibrant with white blossom and a slight minerality. This is a rich Pinot Gris with a long clean finish.
Pairing
This wine pairs well with a hot summer day or some creamy burrata with some grilled peaches.
Cellaring
Enjoy through 2025
Press
Incredibly fresh! Crisp tropical notes, sweet floral blossoms, and spicy aromas. Makes this a wonderful wine to enjoy with grilled fish, spicy fare, and charcuterie. Tasted August 2020.
Steve Thurlow. This is well priced for such a complex white with subtle aromas and flavours with a lovely rich soft texture. It was fermented in a three separate batches; some in old French oak barriques, some in concrete eggs and the rest in stainless steel with all three blended before bottling. This no doubt delivers the balanced fine texture. Expect aromas of apple melon and orange fruit with a mineral tone. There is a grapey note to the palate maybe after extended skin contact and there is just enough sweetness to balance the acidity and the alcohol is well tamed. Very classy with some elegance all for a great price. I love textural wines like this with subtle aromas and flavours. Great food wine. Tasted January 2021.
Production
Appellation
BC VQA Okanagan Valley
Vintage Notes
In 2019 Mother Nature decided to hit us with many curve balls. The winter started off mild, even warming to above 0°C in January, however this would not last and in February we returned to more normal cooler temperatures. Spring began cool, but as summer approached the temperatures warmed, giving us a typical Okanagan summer with temperatures not peaking too high. The season looked promising, with talks of harvest starting slightly earlier. September started beautifully, but in the second week, the rain came and kept persistent throughout the month. October gave us some reprieve, until the frost hit the valley October 10th, causing ripening to shut down in many vineyards. Harvest commenced September 25th with Pinot Gris from OK Falls. Shortly after, the Pinot Noir and Merlot started coming in and things did not slow down for the next month with the last grapes arriving November 5th. Despite the myriad of weather events, you can expect the wines to be fresh and vibrant with complex flavour profiles and balanced acidity.
Vinification
Our winemaking choices for this vintage include whole cluster pressing for a fresh fruit profile and settling the juice with no skin contact. We then fermented in 37% neutral French oak barrels, 36% stainless steel and 27% concrete eggs. The wine was aged sur lie for 6 months with weekly stirring. Our winemaking team has been using concrete eggs since 2011, however they have been used in winemaking for centuries. Concrete fermenters are slightly porous thus allowing the wine to breathe, while the egg shape keeps the wine in constant movement.
Producer
Producer Description
Laughing Stock Vineyard Founders David and Cynthia Enns led conservative, methodical, and calculated lives in the Financial Industry. In 2003, they followed their hearts, and bullishly invested everything into the wine industry. An emotional decision that their pinstriped peers thought was ... fiscally foolish, and financially unwise.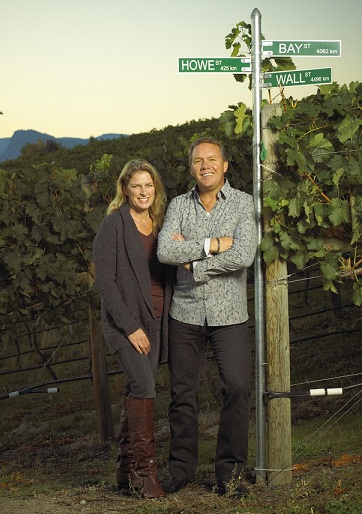 The Laughing Stock name may have unwittingly been conceived at this time. Heaven knows they heard the term over-and-over again from their colleagues on Bay Street and Wall Street. But this was a venture that had to be pursued, regardless of the dire financial forecasts. As David often said, "this is our 'vow of poverty".
For over 15 years, David and Cynthia grew the Laughing Stock Vineyards to the coveted and respected portfolio of exemplary wines that exists today. Highly acclaimed wines that have been twice awarded the Lieutenant Governor's Award for Excellence in B.C. Wine, the 2011 Syrah was named the Best Red Wine in Canada by Decanter World Wine Awards, and in October 2018, Laughing Stock Vineyards took home the top trophy for Syrah in the Six Nation Wine Challenge that awards only the top wines of the New World nations.
Today, while Cynthia and David are no longer involved in winery operations, they have left a formidable legacy, and commitment to excellence and passion for wine that continues to drive Laughing Stock Vineyards forward. It is our goal to carry on their vision to continuously explore and create the best wines that showcase our beautiful region.
Our vineyards
Naramata Bench Vineyard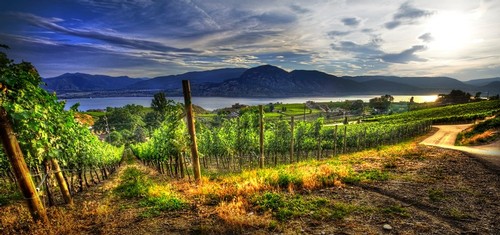 The estate winery vineyard is home to all the Bordeaux grape varieties (Merlot, Cabernet Sauvignon, Cabernet Franc, Malbec & Petit Verdot) that are included in the Portfolio flagship wine.
Perfect Hedge Vineyard - Osoyoos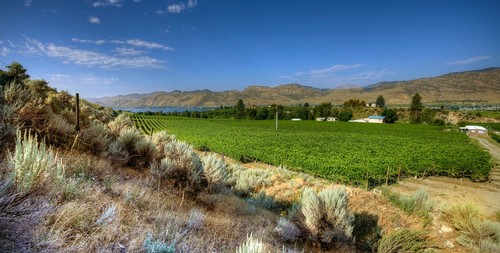 Home to Bordeaux varieties (Merlot, Malbec & Cabernet Sauvignon) as well as Viognier and Syrah (2011 Winner of Lt. Governor's Award of Excellence in BC Wines). Southwest exposure above Osoyoos Lake and in Canada's only desert makes this location ideal for the big reds.
Customer Reviews
Be the first to review this wine!
You may also like...
Blue Mountain Pinot Gris 2019
Canada, British Columbia
Pinot Gris is one of the darling varietals of the Okanagan Valley. It ripens easily and consistently produces an enjoyable, fruit forward yet food friendly wine.
Details
Norman Hardie Calcaire 2020
Canada, Ontario
Pinot Gris is one of the darling varietals of the Okanagan Valley. It ripens easily and consistently produces an enjoyable, fruit forward yet food friendly wine.
Details